repair rather than throw away
Does your vehicle need maintenance, malfunction diagnosis, TÜV or other services? Then do not hesitate to hand over your keys to the trusted hands of Lang Autoworkshop. Having more than 13 years' experience gives us the required knowhow for expert repairs.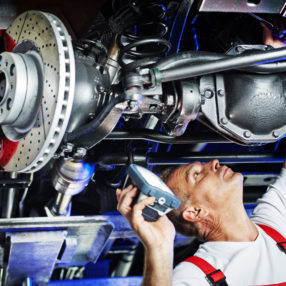 Competent vehicle repair and maintenance
Lang Autoworkshop is a professional full-service and motor-vehicle workshop. To ensure that your vehicle receives the ideal level of service and expertise Lang Autoworkshop uses a team of in-house trained mechanics. No matter if you have squeaky brakes an engine check light or a noisy exhaust – We will help you to ensure that your driving experience is safe and carefree. Our services in the field of vehicle maintenance know no boundaries, whether it is a car, van or commercial vehicle.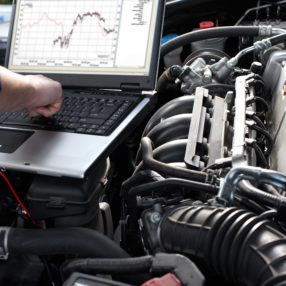 Our customers enjoy being served by our experienced mechanics, who will impress you with their comprehensive knowledge and advice. With the help of our innovative diagnostic systems and latest workshop technology, it will be a simple matter for us to find the cause of your mechanical or electrical malfunctions. Benefit from our expert knowledge which allows us to find false alarms and electronic malfunctions, we will eliminate them in an expedient manner.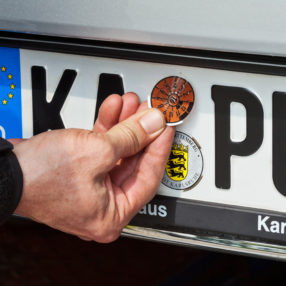 TÜV Compliant and reliable exhaust analysis
It can be frustrating to fail a TÜV inspection because of a slightly damaged axle. We keep a wide range of parts in stock, so we can prepare your vehicle for your next inspection. We will be happy to arrange all the Necessary items so your vehicle is ready for the KÜS inspection centre in Wincheringen, who work in cooperation with us. True to our motto: leave your car with us and we take care of the rest. You are also in the right place should your vehicle require an emissions test. As an authorised emissions testing centre we are able to diagnose any problems which would lead to failing the test.
When was the last time you gave a car a second glance, or let your fingers wander over the bonnet? It's time for you to fall in love with your car again. Let us put a new shine on your, perhaps outdated, damaged car!
A professional paint job can make your vehicle stand out in a crowd. Lang Autoworkshop will repair your car after an accident, or freshen up the old paint job of your vehicle. We are prepared, together with our team of expert painters, to fulfil your individual requests for a high-quality paint job. Our body and paint shop can carry out a wide range of paint work – from minor paint and scrape repairs to a complete paint job.
scrapes on the bumper
removal of small and large paint particles
small paint repairs
complete paint repairs
You only require paint repair? No problem! Our expertly executed paint jobs will match the existing paintwork and will remove all external discrepancies. Cracks in the paintwork may also be easily repaired by our reliable paint shop. Furthermore, for the scope of collision damage, we specialise in complete paint work. Multiple options are available from the restoration of your old paintwork to the refurbishing of your worn paintwork. Lang Autoworkshop's specialists assist you in choosing the right paint job for your personal needs and wishes. Our years of experience and accreditations will confirm that you have chosen the right partner.
It is our aim to restore your oldtimer to mint condition and to make your ideas a reality, from simple repairs and modifications, to the complete restoration of your car. We set the highest standards to restore or surpass the quality of your oldtimer.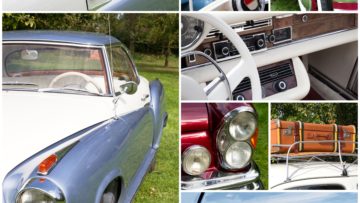 Complete loving restoration
You dream of a complete restoration of your oldtimer? Lang Autoworkshop possesses the know how and the needed tools to make your project a reality. The complete restoration of an oldtimer includes complete dismantling of the vehicle and assembly of each and every part and system. With our passion for vintage vehicles, as well as a love for detail and craftsmanship, our expertise we will help your darling vehicle get back to mint condition. All of our restorative work will be documented to enrich the history and value of your car.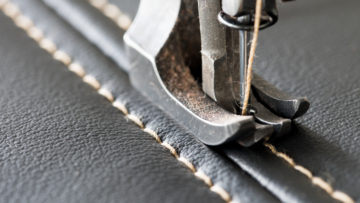 When we refurbish the interior of your oldtimer, we pay attention to every detail – only then will we be able to ensure the highest quality of workmanship. This is made possible by the support of our staff who are dedicated to restoring your vehicle. We will give your car interior that little extra with the help of our own upholsterer. We take care of your leather seats' repairs, upholster the chairs and fasten panels. Extensive frameworks to foam seat repairs benefit from our wide range of service options.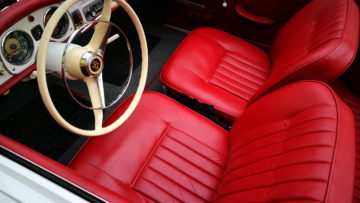 Your benefit through our finishings:
We utilise optimised workspaces and specialised employees for every phase in the field of restoration. This allows us to concentrate on different makes and models at the same time. We will first research the car's history and will then decide, in agreement with you, the necessary modifications for the restoration of your car to mint condition, or to modify it so we may increase the value.
As a specialist in electroplating nickel, chrome and much more, we strive to provide all our customers with unbeatable and exceptional service – no matter if you want the panelling of your vehicle or a unique piece electroplated. Chrome parts add an exclusive touch to the appearance of your vehicle. Electroplating your car is not only a visual change in style, it also protects your vehicle efficiently against corrosion.
Professional electroplating is a process with different steps, depending on the type of metal. Lang Autoworkshop can electroplate copper, nickel, chrome or gold for you on any part of the vehicle you desire. The process of electroplating consists of dissolving a metal and passing an electrical current through the mixture, which draws out the dissolved metal ions from the solution onto the object which is to be electroplated. Our personal focus is the gilding of parts. A layer of 999 gold is applied to the object. We can gild almost any object – iPhone cases, key fobs, etc.
Trust our competent employees to electroplate your vehicle. We ensure an ideal finish for your vehicle and all conductive surfaces. Oldtimers in particular have many chrome parts which may be repaired or retrofitted. However, we may also perfect new cars with the appropriate technology and turn them into a masterpiece. The electroplated parts of your car will have a luxurious shiny surface, which is decorative, non-corrosive and easy to clean. Another one of our specialities is the shine-preserving, de-chroming of rims and all electroplated components without damaging the underlying nickel layers. 
Send us your inquiry and we will evaluate the possibilities of custom professional electroplating.
extensive vehicle knowledge
this is us. A professional and dynamic team of mechanics and customer services: